Nik De Vylder
Nik joined Uticon in July 2016 as a project leader for the Ghent branch. After completing his education in Industrial Engineering Electromechanics at KaHo Sint-Lieven in Ghent, Nik gained experience as a project engineer and project leader within automation, engineering, machines and installations for packaging applications in the food industry. Before joining Uticon, he spent five years as a project leader at Douwe Egberts.
Why Uticon?
"The reason why I took the step to Uticon was because I wanted to carry out different projects across the board in the food industry. As a project leader at Uticon, I come into contact with various projects for different clients. Every client is different and has a different way of working. This is what I find challenging. I also find combining and managing various projects at the same time very exciting."
Nik about his job at Uticon
"I am currently working on a project to increase the capacity of a production site. Existing machines are being modified while new production and packaging lines are added. The entire project must proceed as quickly as possible and the disruption to current production must be limited. In all of this, the safety of the personnel and contractors, food safety and product quality are of course paramount. Good planning, clear agreements and open communication are of great importance here. It obviously helps if you have already been in similar situations a few times, so that you can assess the various obstacles well in advance.
For this project, I worked out several possible concepts, starting from the needs and wishes of the customer. For each of these concepts, a list was made of the advantages and disadvantages associated with it, and to what extent the various 'need to haves' and 'nice to haves' of the customer were met. I also drew up a cost estimate, on the basis of which the management made the budget available. At the moment, a few of these concepts are being worked on further, until a final choice can be made. Then the project can be given its definitive shape.
What is great about working at Uticon
"The diversity means that no two working weeks are the same. In addition, I get enormous satisfaction from the successful completion of my projects and the satisfaction of the customer. I am truly proud of what I have achieved.
"The colleagues are also very nice to work with. The collegiality is there and everyone is willing to help each other. I call it a kind of 'Uticon solidarity'. We are a team and as a team we work together on projects in the interest of Uticon."
The Uticon Food Academy
"I would like to grow further in my multidisciplinary knowledge. In my current project, I have to deal with issues relating to architecture and building installations. In addition to my expertise in mechanical engineering, I can expand my knowledge in this way."
The Uticon Culture
"As mentioned earlier, I find everyone extremely helpful. There is also an open atmosphere. We are driven and serious, but we can also have a chat or a joke amongst colleagues. If we are on an external project with a customer, we are quickly included in the group there as well."
Wil jij ook bij Uticon werken?
Rebecca Vilain
HR Business partner
Please contact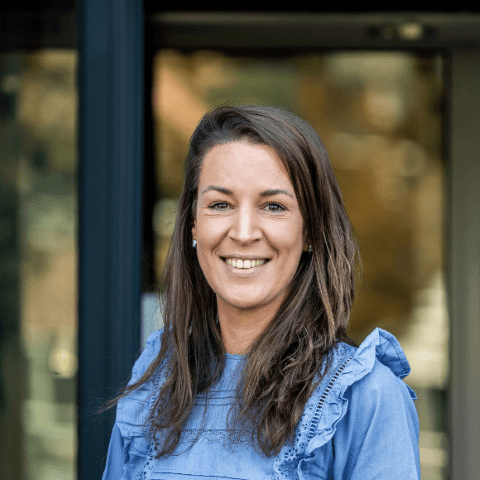 Rebecca Vilain
HR Business partner